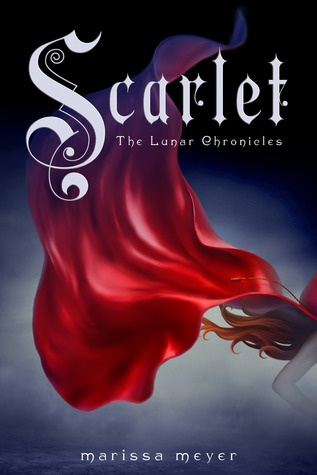 Scarlet
Book #2 in The Lunar Chronicles
by
Marissa Meyer
My rating:
5 of 5 stars
Can I just begin with saying how much I ADORE this series!!
....but it didn't start off that way ;)
Coming into this series, I was a bit quizzical but as soon as I started reading book one, Cinder, I was easily convinced and blown away with how much I was loving the story.
Then along comes book two, Scarlet, and I was super nervous that I wasn't going to like it. I was already invested in what was going on with Cinder and wasn't sure I wanted to read about someone else. Instead of being nervous, I should of had no doubt that Marissa Meyer's was going to turn it out. She did an excellent job at introducing new characters and blending Scarlet's story with Cinder's.
Scarlet is searching for her Grandmother who has been kidnapped and when she takes matters into her own hands, mysteries start to unravel and secrets are revealed. Scarlet and Cinder paths finally cross bringing together one crazy and unforgettable cast of characters.
I thought the character's in Cinder were great!
Scarlet's characters are unforgettable!
I can not end this review without mentioning the Han Solo-esque, arrogant but oh so charming, Carswell Throne. I thought he was the star of the entire book.
Hopefully we'll get more of him throughout the rest of the series!
Each book has a refreshing, sci-fi/fantasy spin on a classic fairy-tale. Cinder was from Cinderella, of course, and Scarlet is from Little Red Riding Hood.
I've already jumped into book 3, Cress, and I'm excited to read Meyer's sci-fi, intergalactic take on the classic Rapunzel fairy-tale.
If y'all haven't read Cinder or Scarlet yet, GO OUT AND GET THEM!! It's just a really fun, action packed story with just the right amount of romance

♥
It's definitely a great series to read, especially right now, in the summertime, pool side or beach side. Set up a blanket in the grass with some shades and your set!
• to purchase this awesome book ~
♥
BIG HUGS and Lots of Love
♥