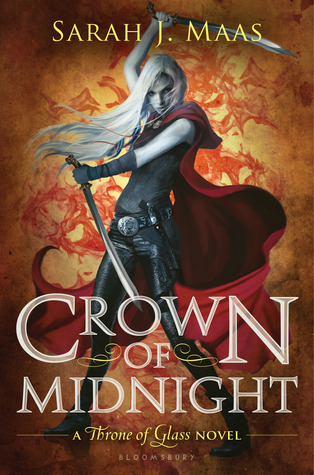 Crown of Midnight
by Sarah J. Maas
"A line that should never be crossed is about to be breached.

It puts this entire castle in jeopardy—and the life of your friend."
From the throne of glass rules a king with a fist of iron and a soul black as pitch. Assassin Celaena Sardothien won a brutal contest to become his Champion. Yet Celaena is far from loyal to the crown. She hides her secret vigilantly; she knows that the man she serves is bent on evil.
Keeping up the deadly charade becomes increasingly difficult when Celaena realizes she is not the only one seeking justice. As she tries to untangle the mysteries buried deep within the glass castle, her closest relationships suffer. It seems no one is above questioning her allegiances—not the Crown Prince Dorian; not Chaol, the Captain of the Guard; not even her best friend, Nehemia, a foreign princess with a rebel heart.
Then one terrible night, the secrets they have all been keeping lead to an unspeakable tragedy. As Celaena's world shatters, she will be forced to give up the very thing most precious to her and decide once and for all where her true loyalties lie...and whom she is ultimately willing to fight for.
Anything negative I said about Celaena Sardothien and book 1, Throne of Glass....I TAKE IT BACK!!!
This book...THIS FREAKIN' BOOK!!!!!
This beautifully BRUTAL book...mixed with so much feelings...
Magic and the Fae, Love and Death, lots and LOTS of bloody death.
My problem with the first book was that it was so timid. We're suppose to get an image of the countries most dangerous and deadly Assassin and what we got, in my eyes, was a whiny, junk food lovin', frilly dress wearin', girl with some toys to play with.
I didn't know what to expect in this book. I set my expectations high b/c so many people recommended that I shouldn't give up on the series and that book 2, Crown of Midnight, would blow me away. Well....They were abso-FREAKIN-lutely RIGHT!!!!
I got what I wanted plus some!! I got the BAD ASS killing machine I wanted ;).....SWOONABLE romance between Celaena and Chaol, and the friendship between Celaena and Nehemia. I wasn't expecting to tear up or swoon while reading Crown of Midnight but I did and I'm certainly not ashamed! I'm also relieved that I didn't give up on this series. I would of missed out on something incredible.
I'm anxious to find out what's next for these characters I've grown to love. I'm intriged by the mystery and the thrill of the quest Celaena is slowly discovering and what's to become of her and Chaol. I'm eager to know more about the secrets Prince Dorian is unveiling and what it'll take to take down the most evil man alive, his father, the King.
I'm counting down the days until SEPTEMBER 2nd, 2014.....Heir of Fire will be in my hands!!
If you have read this series yet...GO OUT AND GET IT, READ IT, LOVE IT!
check out my review of Book 1 Throne of Glass
click here
♥
BIG HUGS and Lots of Love
♥