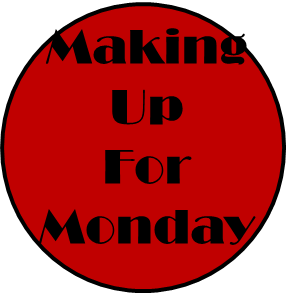 Here we are, another Monday! Let's have some fun a do a Monday meme. Each week I'll do, Making Up for Mondays, hosted by An Avid Reader, A Wanna Be Writer. There will be a theme/game/something fun to do that week and you are more than welcome to play along. Just answer the question for the week and explain why on you blog. Don't forget to link your post here and on our hosts page. Thanks Y'all and Happy Reading
♥
February 3rd: What Is your favorite Genre of book and how frequently do you read outside of that?
I love Fantasy!! I tend to stay within fantasy and it's sub-genres.
High Fantasy
Urban Fantasy
Epic Fantasy
Paranormal Fantasy
Historical Fantasy
But I don't mind reading outside of these genres. When I do it's usually:
YA/ YA Dystopian
Mystery/Thriller/Suspense
Science Fiction
Horror
I thought about opening up to more of the classics, historical fictions and Contemporary but I tend to lose interest easily.