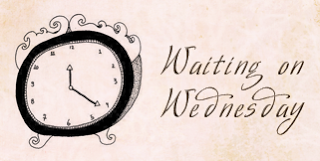 Waiting on Wednesday is a weekly bookish meme,
that showcase upcoming releases that we are eagerly anticipating.
Today's books is:
Expected Release Date:
October 14th, 2014
A heartbroken girl. A fierce warrior. A hero in the making.
Sixteen years ago the Kingdom of Winter was conquered and its citizens enslaved, leaving them without magic or a monarch. Now, the Winterians' only hope for freedom is the eight survivors who managed to escape, and who have been waiting for the opportunity to steal back Winter's magic and rebuild the kingdom ever since.
Orphaned as an infant during Winter's defeat, Meira has lived her whole life as a refugee, raised by the Winterians' general, Sir. Training to be a warrior—and desperately in love with her best friend, and future king, Mather — she would do anything to help her kingdom rise to power again.
So when scouts discover the location of the ancient locket that can restore Winter's magic, Meira decides to go after it herself. Finally, she's scaling towers, fighting enemy soldiers, and serving her kingdom just as she's always dreamed she would. But the mission doesn't go as planned, and Meira soon finds herself thrust into a world of evil magic and dangerous politics – and ultimately comes to realize that her destiny is not, never has been, her own.
Ummmm....YES PLEASE!!! For those of you who are familiar with my blog and I, by now you should know that I am a HUGE fan of High/Epic Fantasy!! Some of my favorites being The Lumatere Chronicles by Melina Marchetta and Falling Kingdoms by Morgan Rhodes. I just love anything to do with distant lands ruled by Kings and Queens, Kingdoms engaging in brutal battles, Kickass heroines/heroes and a hint of magic thrown in the mix! That's my kind of story!
This book seems to have all of that going on, Adventure and Romance, loyalty and betrayal. I'm hoping for a thrilling, page-turning debut! At least this book has a beautiful cover I can gaze at while waiting for it's arrival....in October...like 7 months away...OH! MY! GOSH!!!! WHHHHYYYYYY!!!!!!!!!!
Hope y'all add this one to your TBR list. I know I'll be looking at all the W.o.W's today adding more books to mine.